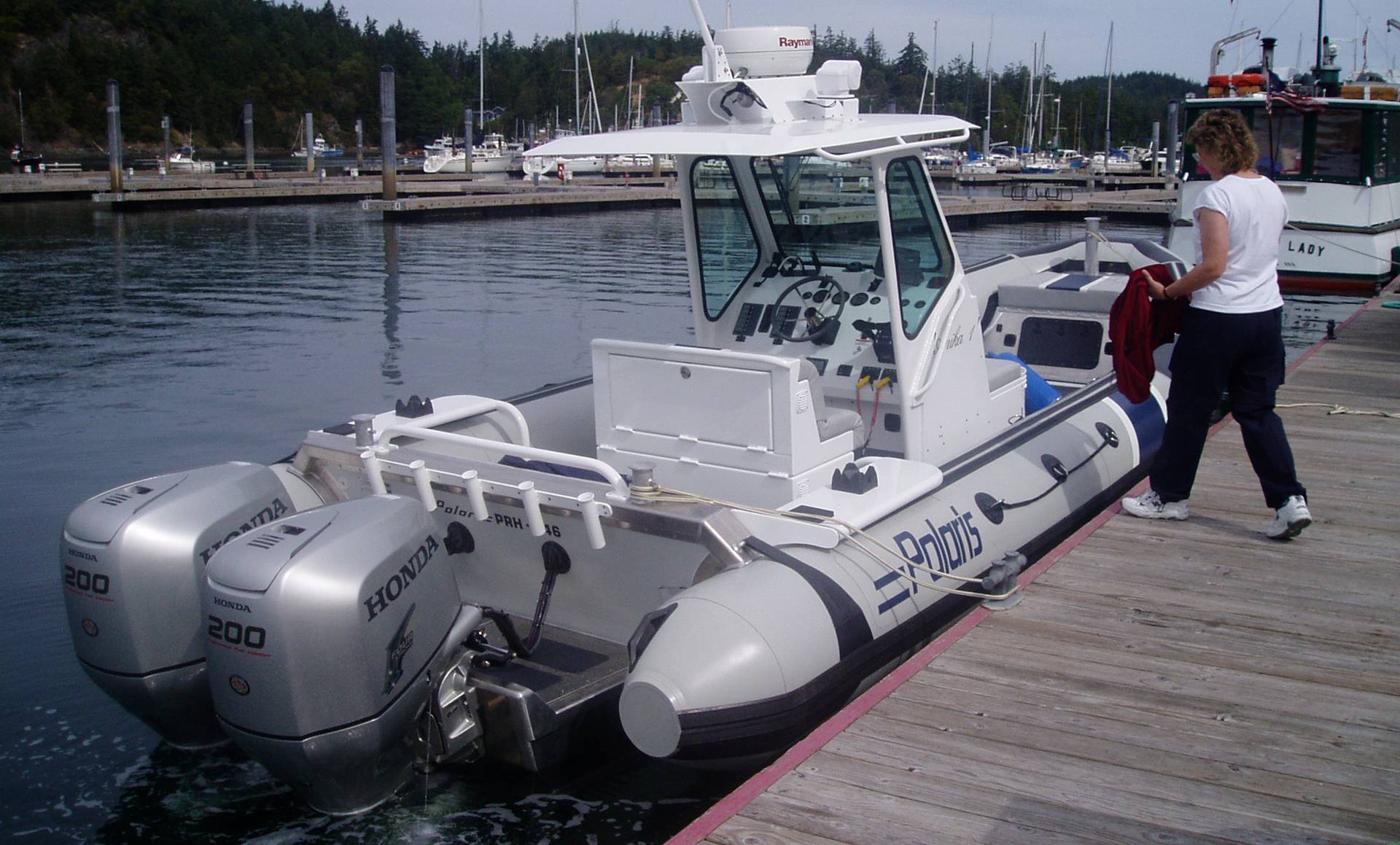 HISTORY:  The Neptune series rigid hulled inflatable boats were originally developed in the early 1970's as annexes to oil platforms located in the North and Beaufort seas. The original Neptune's were designed to serve a variety of applications in all seasons and under all weather conditions. Polaris acquired the rights to the original designs in the late 1980's and since that time the Neptune's designs and constructions have evolved to meet a multitude of diversified and demanding applications.
CURRENT:  The Neptune's produced today are individually hand-built and accessorized to meet our Client's particular environment, needs and application. Each aspect of our boat construction and assembly is considered, fabricated and installed with regards to function and durability. This series of boats is built with materials which have solidly demonstrated suitability and standards to meet the Neptune's applications. Each Polaris Boat is built to exceed the applicable governing standards: And is also capable of facing 'surprise' conditions as may be imposed by unforeseen or extreme and difficult situations.
The Neptune series boats are available in aluminum or fiberglass hulls and can be accessorized in many configurations such as:
Simple open boats c/w optional consoles and seating.
With partial console or other enclosures with soft or solid roofs.
With fully enclosed cabins.
The inflatable collar as fitted onto the Neptune provides unequalled buoyancy. A well designed rigid hull, such as the Polaris, will withstand flood conditions with full payload and still be operational. Lateral stability is unsurpassed by virtue of immediate floatation.
UPON COMPLETION: Each Neptune series boat is fully sea trialed. A comprehensive trial report is provided with the vessel's documentation. Our clients, or representatives, are welcome to join us for sea trials at this time and for familiarization with the vessel.
ALUMINUM RIGID HULL
17'6 to 44' length – Inboard, Outboard or Jet
The Neptune series aluminum hull RIB's are designed for higher speed, open water conditions. This series has hull configurations available for ocean or for shallow water use.
The Neptune aluminum hull offers maximum internal deck space for the overall length. Space is measured as clear distance between the tubes, with fuel tank, cables and hoses all accessible and serviceable as they are located below removable deck plates. The cabin, console and seating are suggested for individual boats to maximize deck space function and to benefit the handling characteristics of the vessel. The aluminum hulled Neptune is a strong and durable vessel, constructed to survive impacts that could damage other boats.
The Neptune has a structured hull constructed of 1/4″ 5086 marine grade aluminum plate. The hull is fitted with deflector strakes which add strength to the overall structure creating lift, spray deflection and directional stability. The deck is constructed of 5000 series aluminum a minimum of 3/16″ thick. All Polaris boats are constructed to exceed the particular needs of an intended use.
Neptune Aluminum hull RIBs are currently in use by governments, individuals, search & rescue and other professional operators around the world.
Neptune Aluminum hull RIBs are currently in use by governments, individuals, search & rescue and other professional operators around the world.
FIBERGLASS RIGID HULL
21'6 to 27'6 length – Inboard, Outboard or Jet
This series of RIBs are designed for both open ocean and inland waters.
If you are looking for professional quality in a family boat for open ocean transportation or for heading out on a great adventure, the Neptune with a fiberglass rigid hull may be the perfect boat for you.
If you are looking for RIB for commercial purposes such as Law Enforcement or Whale Watching your choice might also be the Neptune with a fibrglass rigid hull.
These boats can also be outfitted with a cabin for touring coastal or inland Waterways for both recreational or commercial applications.
Each Polaris Rib is fully outfitted to suit your individual preferences and for the operational environment.
Polaris Neptune RIBs have repeatedly proven to excel in the harshest environmental conditions.